Welcome to Arizona Septic Service
We perform full inspections and perform maintenance for existing On-Site Waste Water Systems.
We are dedicated to complete and utter customer satisfaction. Here are some of the details that set Arizona Septic Service apart from other companies..
1. We quote a set or flat fee.  You will know the maximum investment from the beginning so you won't get any surprises.
2. We don't just inspect the system. We will educate you on how it works so you are educated and comfortable with the whole process.
We are happy to provide septic tank services 24/7  in Tucson Proper, South Tucson, Oro Valley, Marana, Green Valley and all surrounding Tucson areas. We are always available to serve you.
Please visit our Services page to see a comprehensive list of the septic services that  we offer.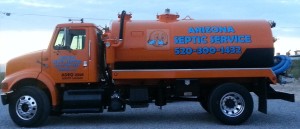 Call us today and discover the difference of  Arizona Septic Service. (520) 300-1432
For your convenience, Inspection services can be paid through escrow or with a check or Visa, Mastercard or Discover.